Meet 12 Startups from Techstars NYC Winter 2018 Program
I joined Techstars in 2013 and ran my first program in Spring of 2014. It has been an amazing journey, and I am so grateful to have the opportunity to work with incredible group of companies during my 7th program this winter.
Huge shout out to KJ Singh and Jill Canning who built Techstars NYC program into what it is today together with me. So very much appreciate everything that they've done for the founders, and NYC tech community.
Every program, and every group of founders is different and special in its own way. This winter, despite having absolutely terrible weather, we worked with stellar, very special and diverse group of founders and businesses.
We had 5 companies from NYC, and companies from Thailand, Spain, Romania, Austria, Detroit, LA and Montreal. 6 companies have female CEOs and 8 companies had female co-founders. Companies tackled industries ranging blockchain scalability, food-borne illnesses, security, storage, addiction recovery, genomics, construction, data science, recruiting and tracking KPIs.
The companies have made strong progress during the program, and have achieved very significant growth.
MEET THE COMPANIES
Acculis
Acculis is using 3D models to help reduce errors in construction in the office and on-site.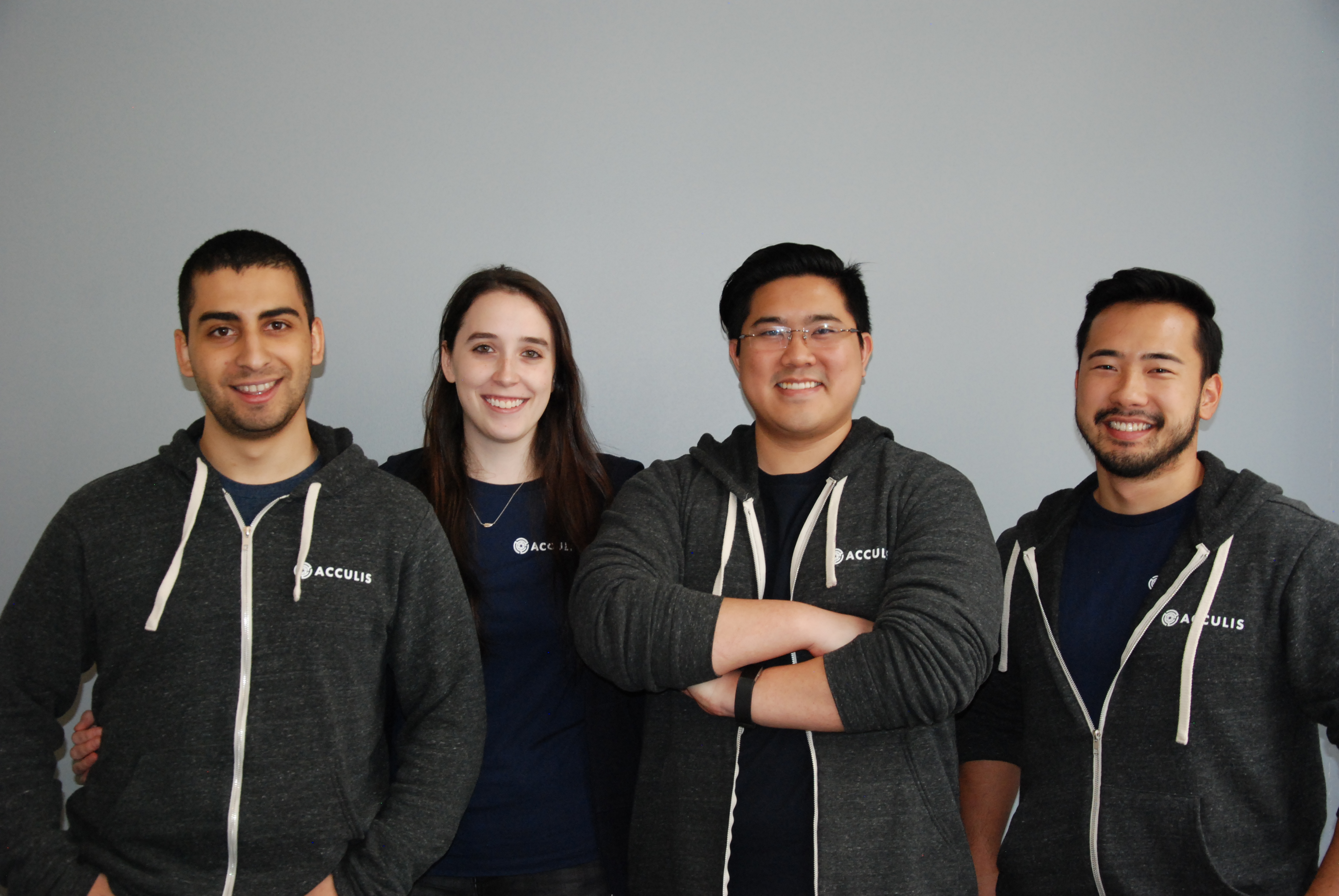 Construction industry is wasting $140BN a year on rework. Lack of integrated and cohesive collaboration tools leads to expensive errors. Acculis is building state of the art communication and collaboration software for general contractors. The platform makes it easy to collaborate around 3D designs, to identify and fix errors and deviations before they become expensive rework problems.
Acculis is a team of 4 NYU grads passionate about construction space. The company received several signed LOIs from prominent construction and engineering firms, and built a strong pipeline of prospective customers. They are beginning trials on projects with combined value of $4.5BN. Reach out to for more information.
Altru
Altru is a mobile-video platform that helps companies with hiring and training through employee-generated content.
Content for Recruitment Marketing today is largely ineffective. Companies fail to attract candidates and provide insights on what it is actually like to work with specific teams at a company. Altru is changing the status quo with their innovative video platform for recruiting. Altru helps companies engage their employees in the recruiting process, and tell authentic, insightful stories about the company through employee-generated video.
CEO, Alykhan, was previously head of enterprise sales at WayUp. He started Altru with CTO, Vinnie, who is a Carnegie Mellon grad and former co-founder of PublicStuff. Since November, Altru has grown to close a group of enterprise customers including Unilever, L'Oréal, Dell, Digital Ocean, and Ultimate Software. Altru has grown ARR by 3x in the last 3 months. The company also has an active pipeline of Fortune 500 companies with over $2 million in potential opportunities. Reach out to for more information.
The Clear Cut
The Clear Cut is a D2C diamond engagement ring company that eliminates the stress and confusion of buying a diamond engagement ring through personalized service and expert education.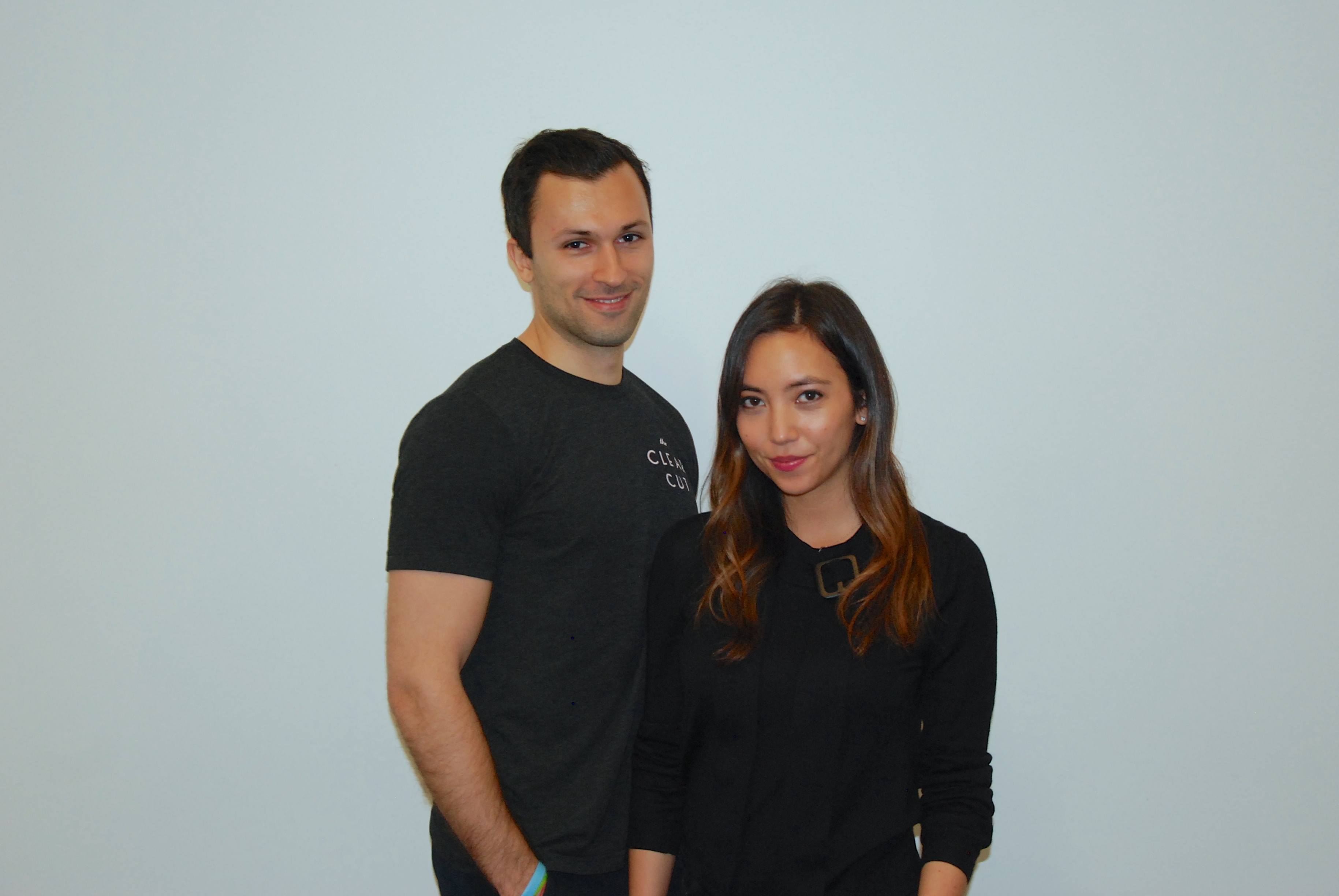 Today's diamond buying experience is broken. You have one of the two bad choices – go to traditional retail and get overcharged, or go to one of the online marketplaces and get overwhelmed with choices without any guidance or help. The Clear Cut solves this problem by combining a curated selection of high quality diamonds with a concierge service. The Clear Cut makes it easy for customers to make tradeoffs and pick the engagement ring that fits their budget.
Olivia, CEO of The Clear Cut is a 4th generation jeweler. She met her co-founder Kyle, who is a Columbia MBA grad, and was previously a founder of a diamond mining company, 5 years ago while they were studying diamonds at GIA. The Clear Cut sales have been growing 100% quarter over quarter. The Clear Cut amassed 75K passionate followers on Instagram. Reach out to for more information.
KPI Ready
kpiReady automates data collection and reporting so that the team, investors, and stakeholders align on goals from Day 1. Smart growth starts early. We make early stage CEOs make better decisions by focusing on the KPIs that matter.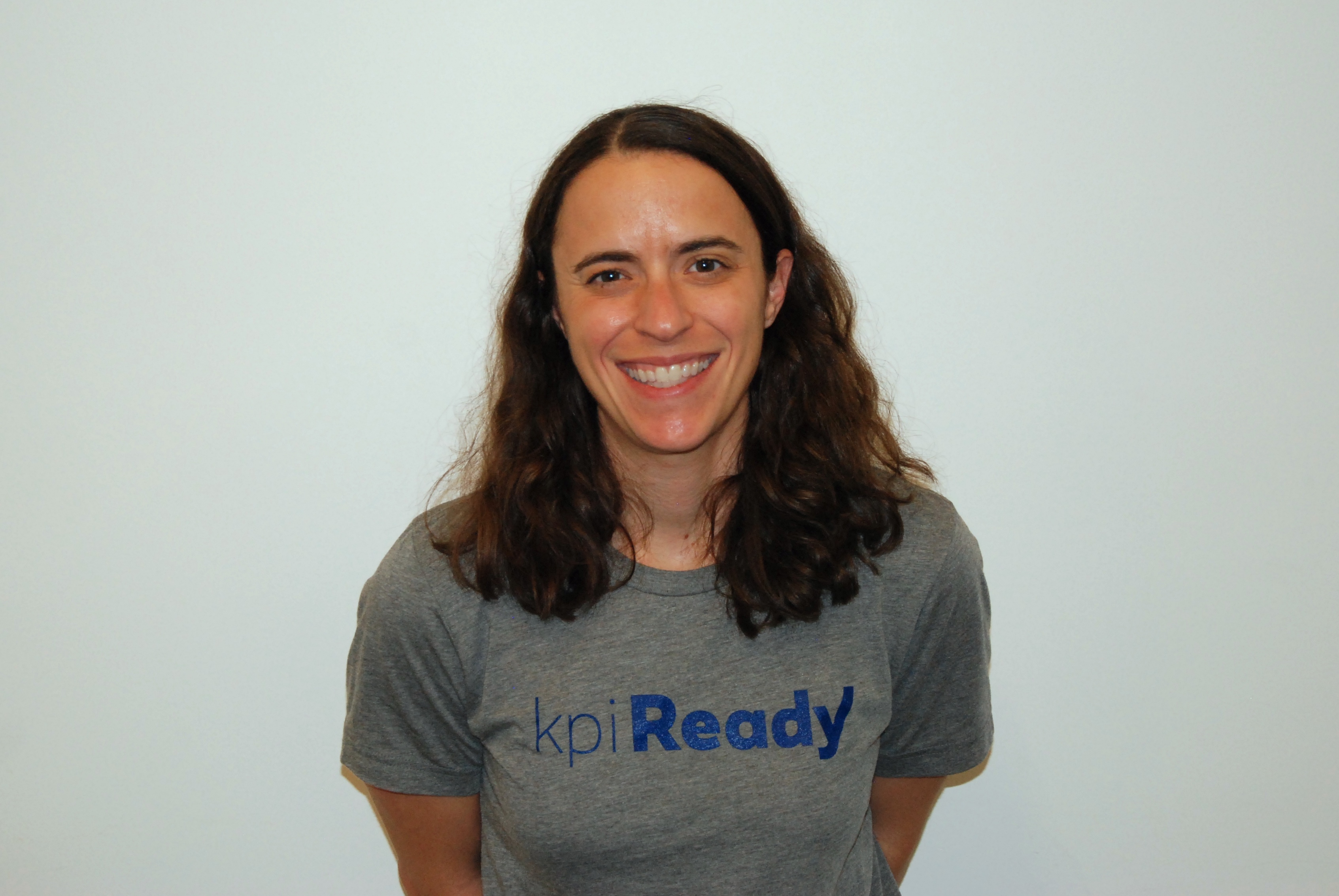 Measuring KPIs from day one is an essential thing for success of any startup. But figuring out what to measure and having the discipline to track things consistently is hard. kpiReady solves this problem with simple and elegant platform for startups and larger companies that helps them track their metrics. kpiReady recommends KPIs based on sector and stage and has easy to use UX that makes tracking KPIs easy and simple. The platform efficiently generates reports to help internal and external stakeholders document growth and diagnose issues.
KPI Ready was founded by Ali Goldstein Norup together with a long-time Techstars mentor and supporter Dane Atkinson. kpiReady is in our incubation track and started the company right before the start of the program. They are just reaching alpha on their product, focused on addressing the pain point of data collection and reporting. From there, kpiReady will streamline and automate the processes of report and share KPIs with founders, the team, investors, and other stakeholders. Reach out to for more information.
Kyso
Kyso is where you publish, share and extend data-science studies.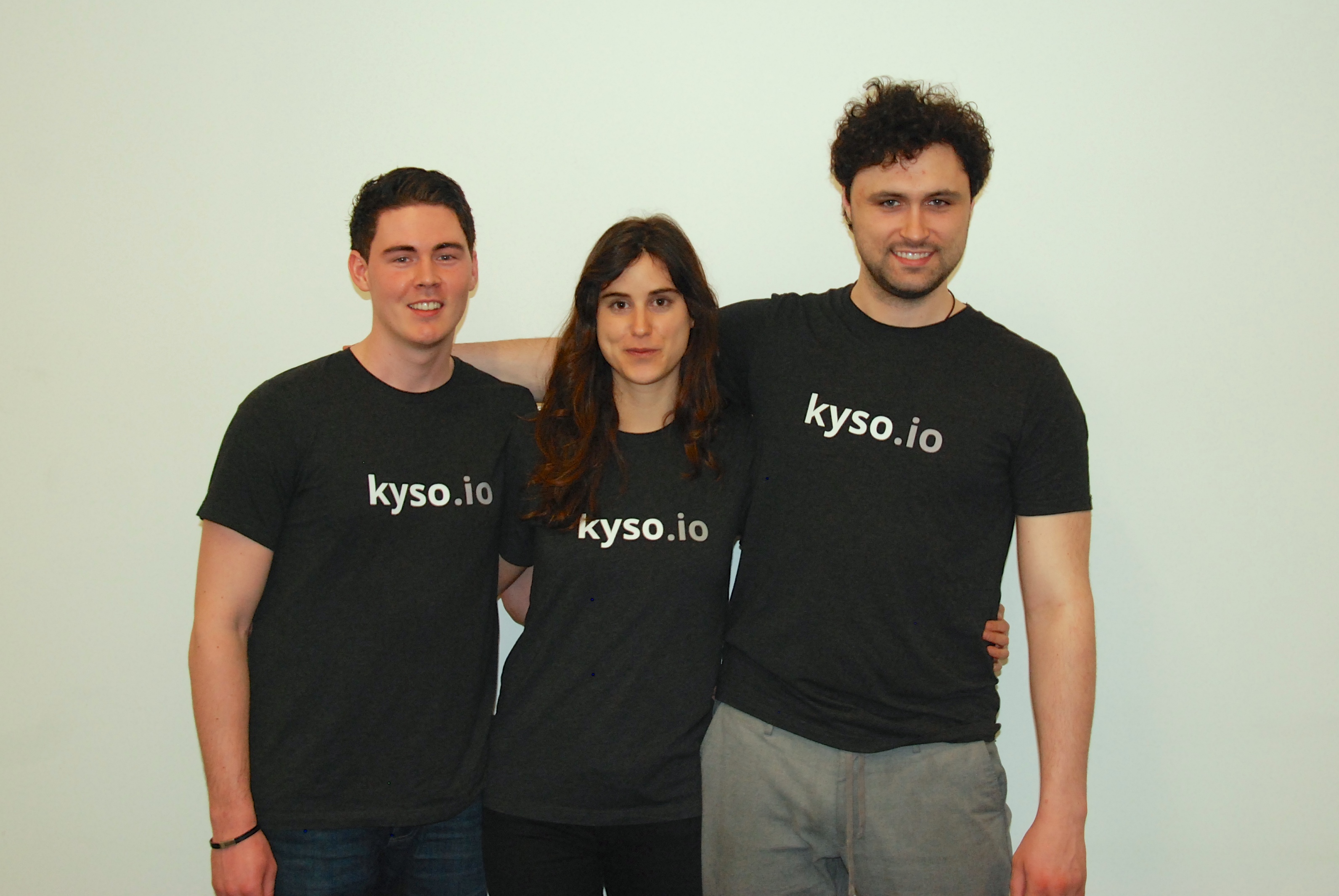 There is a data explosion around us, and data science is on the rise. But sharing and reusing data science studies is still not easy. Most work is published to Github, which is great for engineers but not great for the rest of the world. Kyso solves this problem with simple and elegant blogging platform for data science. With Kyso every notebook is clearly rendered like a blog post on Medium or WordPress. Kyso also makes it easy to clone and extend data science studies, making it easy for data scientists to build on each others work.
Eoin, CEO of Kyso, experienced this problem first hand while doing a PhD in Quantum Computing. Together with his co-founders Helena who previously founded a machine learning research company, they decided to go after this problem. In just 9 weeks, the number of studies on Kyso has been growing on average 50% WoW and have 300+ usable studies. Examples: Analysis of life expectancy vs GDP per capita and Prediction model for employee churn. Reach out to for more information.
Loom Network
Loom Network provides scalable infrastructure for building blockchain apps on top of Ethereum.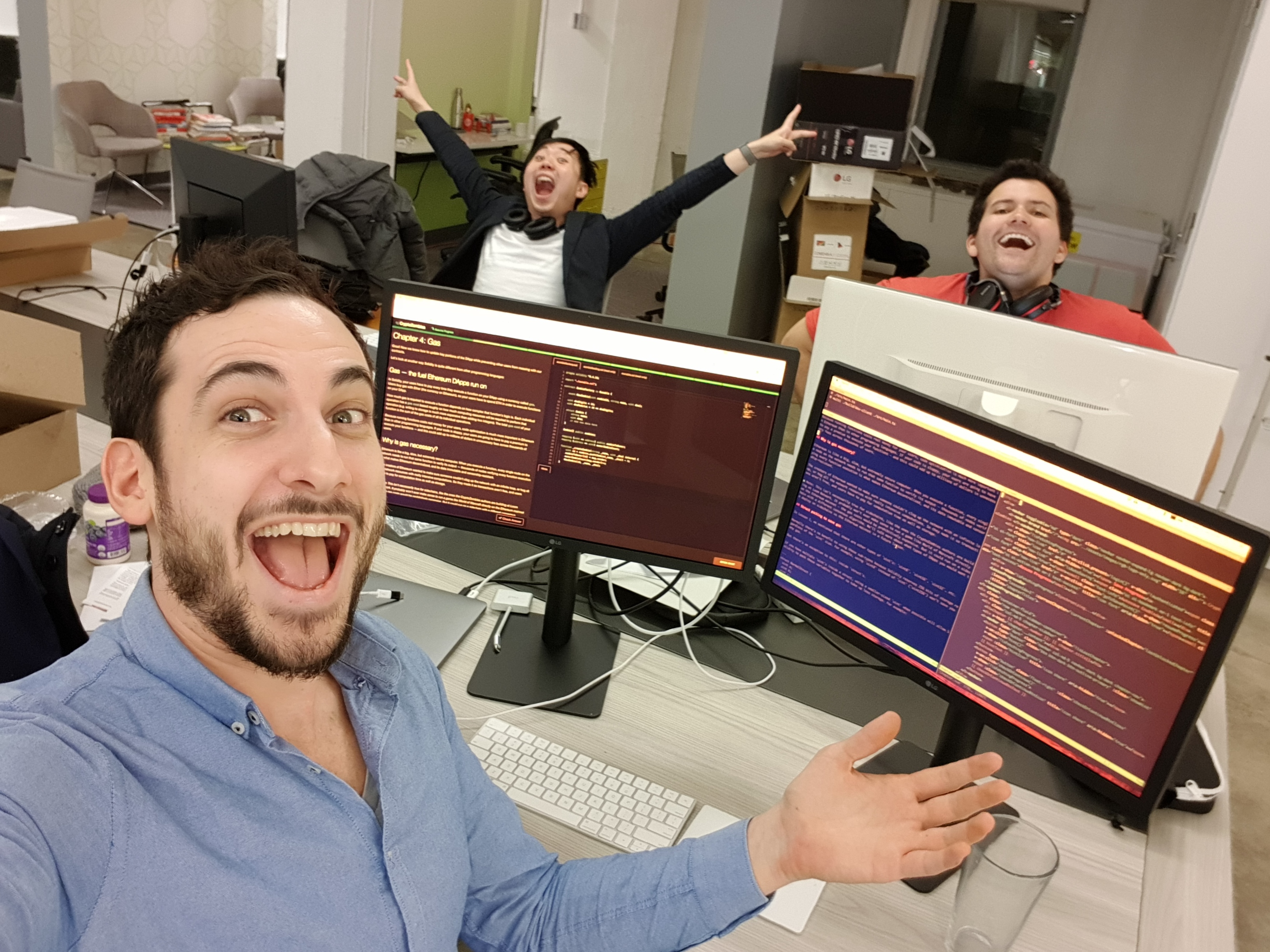 Blockchain holds an awesome promise to be a new kind of distributed database and ledger. The problem is that due to the way blockchains are designed they are hard to scale. Loom Network provides the first ever infrastructure to make it easy for developers to build Dapps that get the trust and security of Ethereum, while maintaining the speed and costs to run efficiently at scale.
Loom Network's co-founders Matt, Luke, and James have deep experience in developing large-scale applications, and were early in the blockchain space.
The founding teams' motto is – we don't write white papers, we ship code. They launched the company last May and have been very busy since! First, Loom Network developed Cryptozombies – a popular tutorial for writing Ethereum DApps using Solidity. They also launched DelegateCall – the first ever scalable Q&A site built on blockchain. Just recently, Loom Network unveiled its platform and infrastructure to be broadly accessed by developers.
Reach out to for more information.
OneStep
One Step provides b2b patient monitoring software to sober homes that helps them operate their homes more efficiently.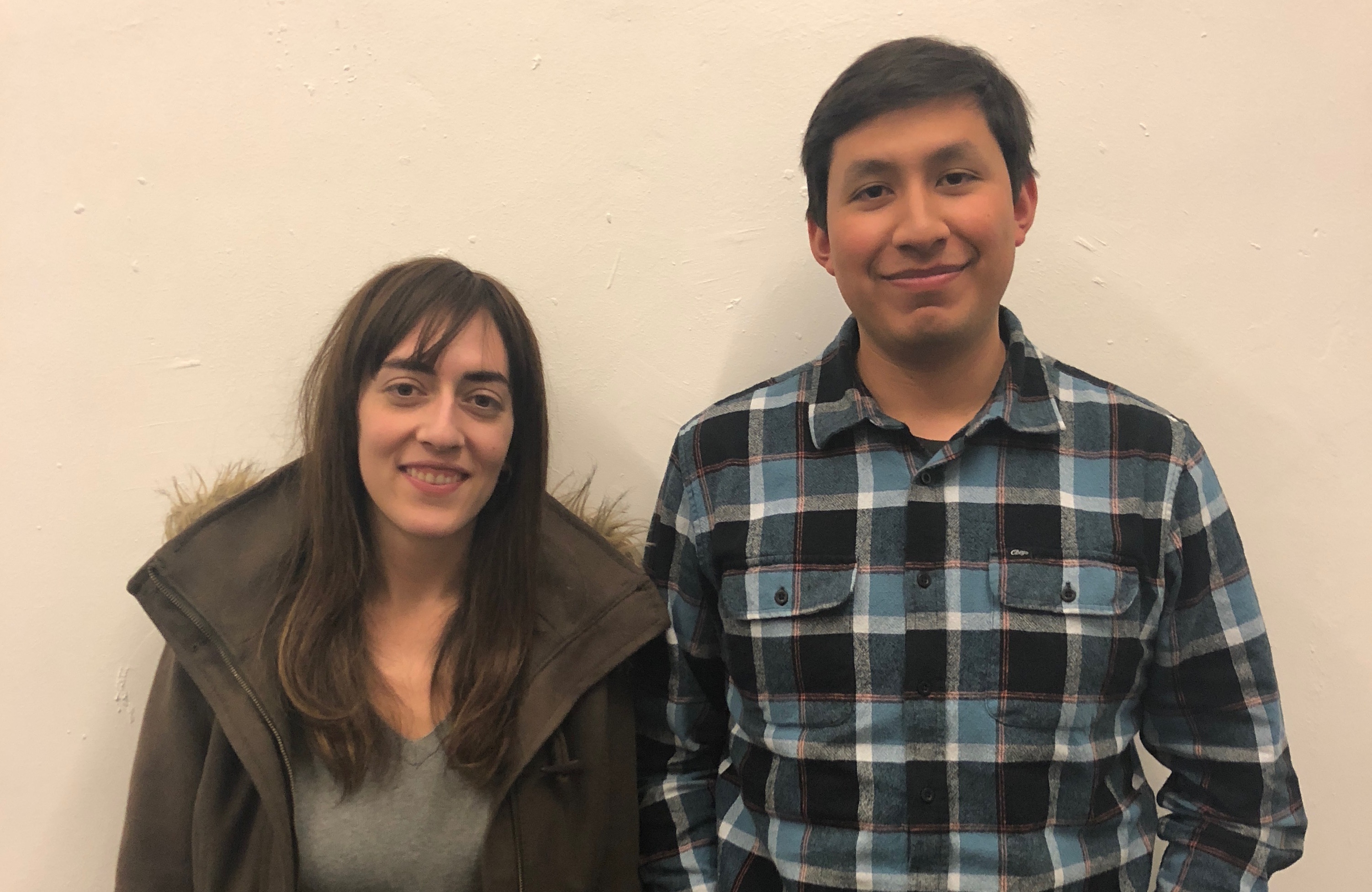 There are 23 million addicts, and over 5 million cycle through rehabs and sober homes. The relapse rate is 90% – we have addiction epidemic in United States. The problem is lack of adequate software tools that help monitor patients. One Step provides b2b patient monitoring software to sober homes that helps them operate their homes more efficiently. We provide a dashboard for staff to enter information and daily behaviors of the patients. There is also a mobile app for the patients that geolocates them, allows them to log AA meetings, check their schedules and view items shared with them.
One Step CEO, Eva, is a Harvard Law grad and serial founder. She realized there is a big need and a big opportunity in this $60 billion dollar market. Since launching the company in August, One Step has over 200 sober homes on their platform and growing 60% MoM average growth. Eva is aiming to get to 2K sober living homes by the end of the year. Reach out to for more information.
PathSpot
PathSpot protects food-service companies and their customers from the threat of food-borne illness by scanning for harmful contamination on employees' hands.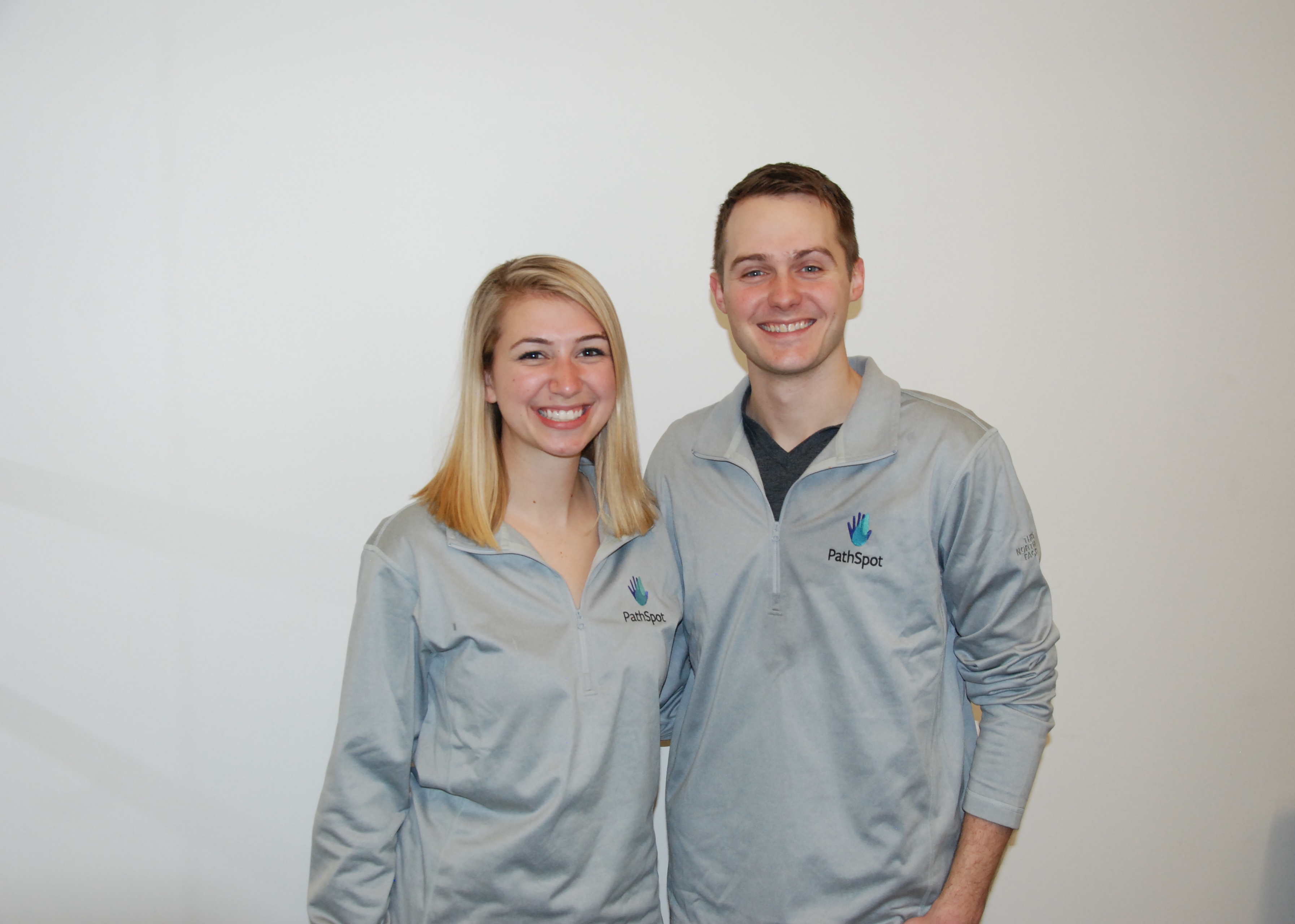 50 million Americans get sick from food-borne illness every year and half come from poor hand washing. Average business gets fined $75K per incident and a lot go out of business. PathSpot solves this problem with an elegant device and software for protecting businesses and customers from food-borne illness. Employees simply scan the hands and know when they need to re-wash. Establishment's management gets a dashboard that helps them understand gaps in sanitation procedures.
Christine and Dutch, two biomedical engineering graduates from Duke University launched PathSpot just a few months ago. Since launch, PathSpot has scanned over 45,000 hands, is installed in 10 venues, and has been consistently growing ~15% WoW. PathSpot has planned installations with Chopt, Sweetgreen, Plated, Sodexo, and Burger King test kitchen. Reach out to for more information.
Rootine
Rootine provides world's first personalized vitamin mix based on your generic make up.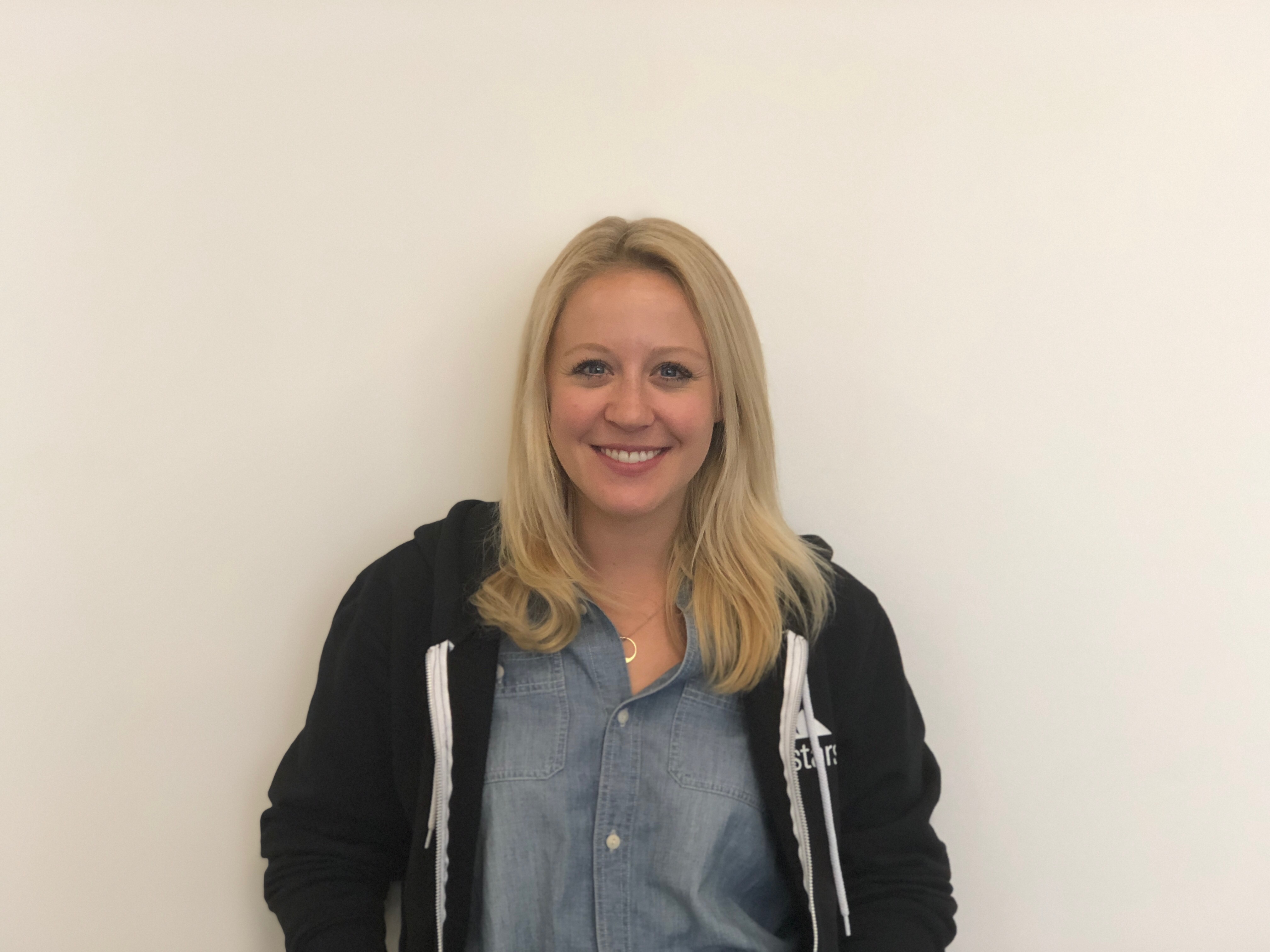 Each of us is unique, yet all of us get the same vitamins. Generic vitamins that are on the market today contain ingredients for hypothetical average person. So called personalized supplements based on questionnaire aren't scientifically accurate. This is why founders of Rootine set out to go after $30BN supplements industry with first ever personalized supplement mix based on your own DNA. To use Rootine, you can either upload your existing sequence or get DNA test through Rootine. You then answer a couple of questions about your diet and exercise and provide optional blood test. Based on this information Rootine ships you unique, customized just for you, supplement mix.
Daniel and Bianca co-founders of Rootine have years of experience in health tech. Daniel has PhD in Biotechnology, and spent years studying how to create the vitamin mix with the perfect form factor, and perfect results. Rootine is now launching in USA and was previously tested with close to 1,500 beta users in Austria. Reach out to for more information.
Streamline Genomics
Streamline Genomics is a platform to help clinicians and researchers benefit from genomic sequencing without the need for data analysis expertise.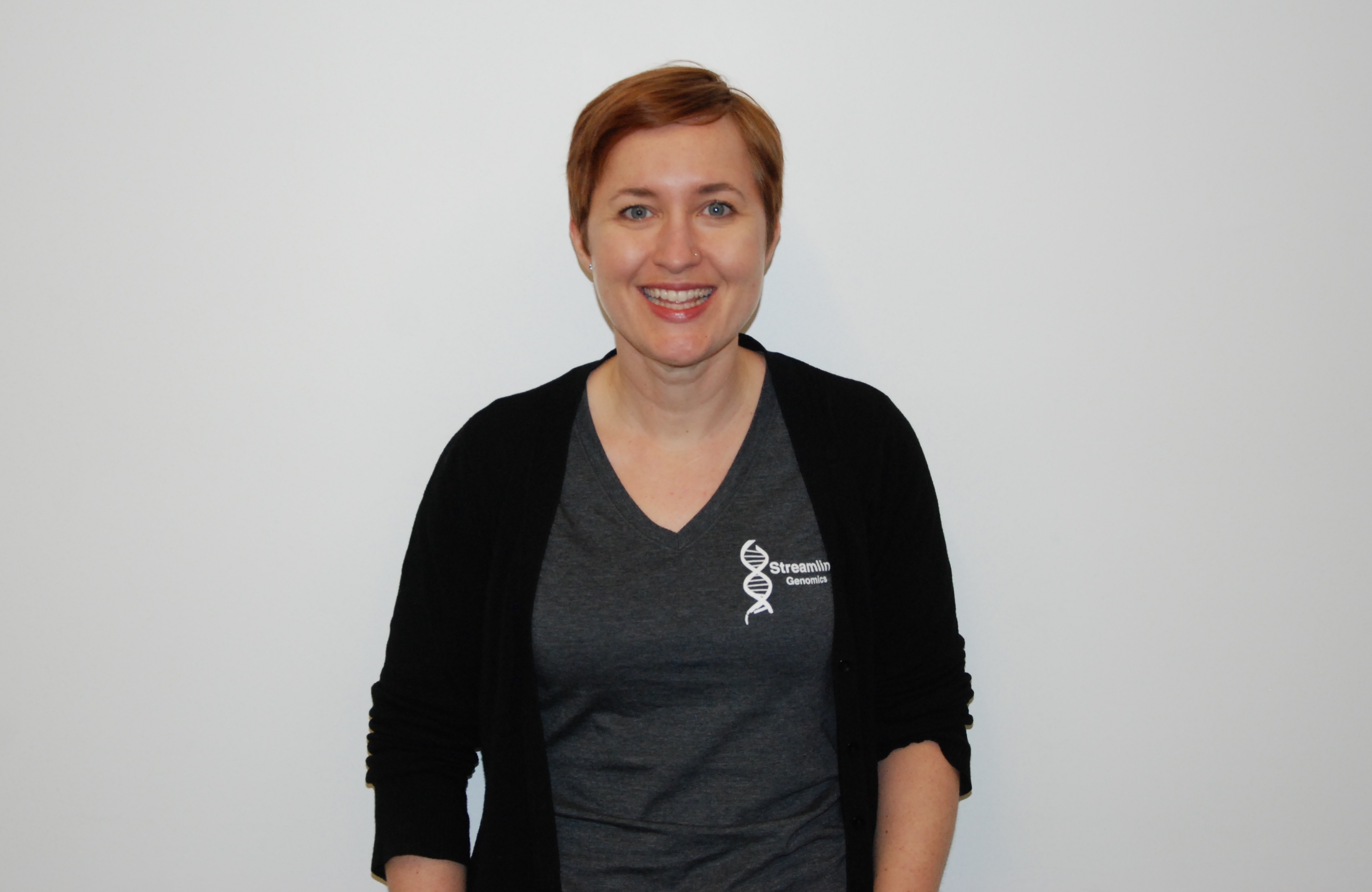 Although DNA sequencing is becoming a commodity, analyzing the terabytes of data inside genomes remains a huge challenge. Clinicians in most hospitals still don't have adequate analysis tools for this data and as a result, over 650,000 cancer patients in America are impacted every single year, representing 40% of the 1.6M cancer patients diagnosed. Streamline Genomics is creating a platform for analyzing genomic sequencing starting with cancer patients. Clinicians can upload patient genomes to Streamline Genomics, run analysis and rapidly identify key mutations that are driving patient's cancer. Clinicians can then use this information to tailor the patient's treatment based on their specific mutations.
Josette and Brian, co-founders of Streamline Genomics, both hold PhDs in Genetics. They launched the company right before the program and are going through our incubation track. The company already has a pilot with a hospital in Montreal, a partnership with 4 other hospitals in eastern Canada, and a strong pipeline of interested hospitals in the US.
TypingDNA
TypingDNA recognizes people by the way they type.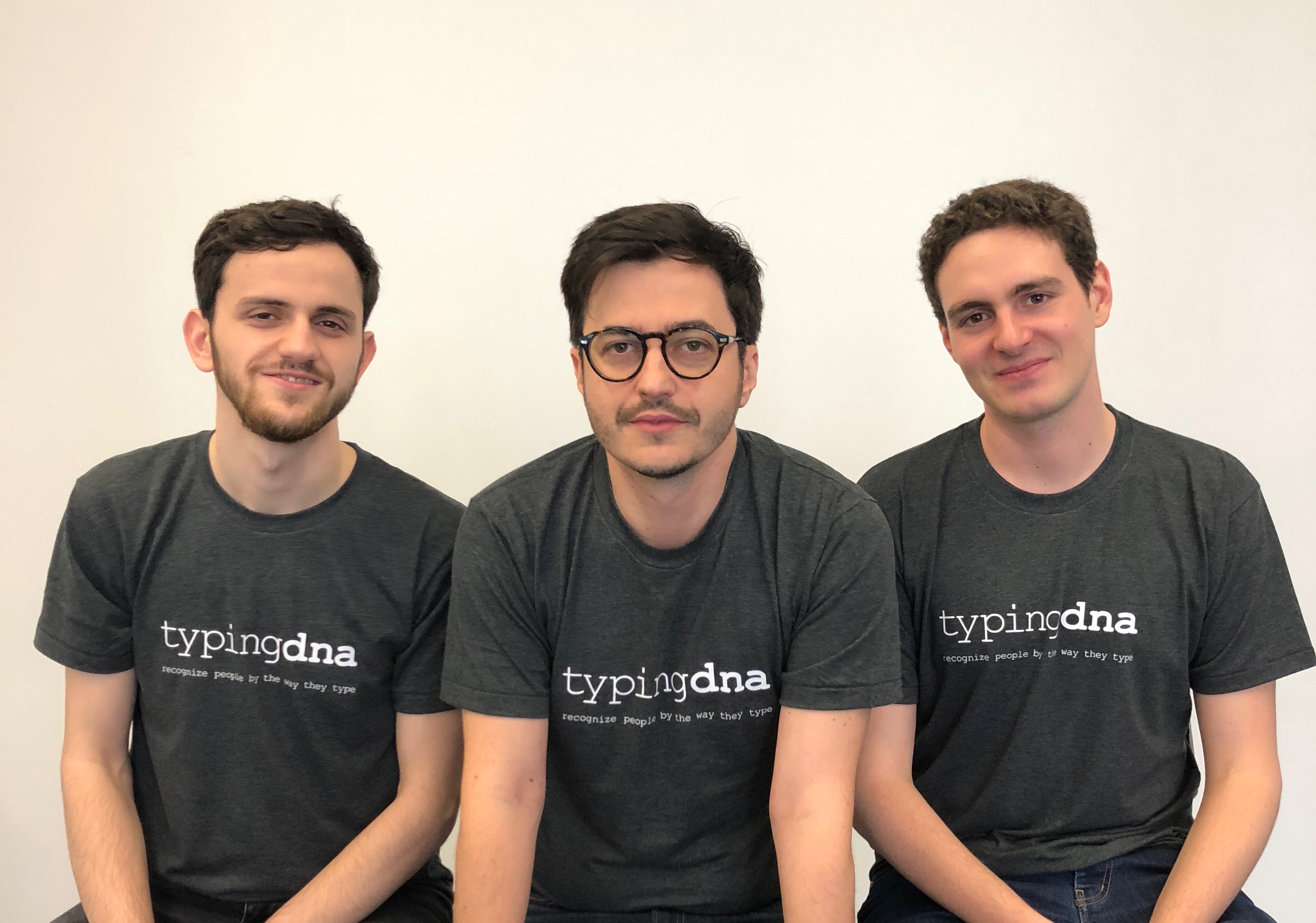 Today's two factor authentication (so called 2FA) is inconvenient, costly and not fully secure. Users are sick of getting text messages with codes on their phones and having to type these codes. For businesses, these text messages come with a hefty price tag. As a result, companies either annoy their users or don't use 2FA at all. TypingDNA is going after this $10BN+ with a simple and elegant solution – 2FA based on the way you type. The company developed sophisticated platform and API that leverages machine learning and helps recognize users by the way they type.
TypingDNA is a brainchild of Raul Popa, CEO and Data Scientist from Romania. After recently launching 2FA alternative, they were covered by for more information.
Vertoe
Vertoe is an on-demand short term storage provider.
Airbnb is awesome, but once you check out where do you store the bags? In general short term storage in cities is a problem. Whether you are a tourist, going to a concert or a sporting event, dragging around your gym bag or professional equipment, cities don't really have good options for storing suitcases, bags and other things we carry around. Vertoe wants to change that with a simple, on-demand storage platform. When you need to store your stuff, head over to Vertoe, search for locations nearby to book and access space within minutes. Today Vertoe offers inexpensive and flexible storage solutions in local shops around New York City for as low as $5.95/day/item.
Sid and Neha, the co-founders of Vertoe, launched the company after experiencing the problem themselves. They launched the company in 2017, and now have 70+ stores in NYC. Since launch, Vertoe stored over 30,000+ bags, and has been growing at average 10% WoW avg. Reach out to for more information.
WATCH SELECT PITCH VIDEOS
THANK YOU MENTORS, ALUMNI & SPEKAKERS
We are incredibly lucky here at Techstars NYC to have support from the amazing tech community in NYC, our mentors, our 100+ alumni companies, and amazing speakers.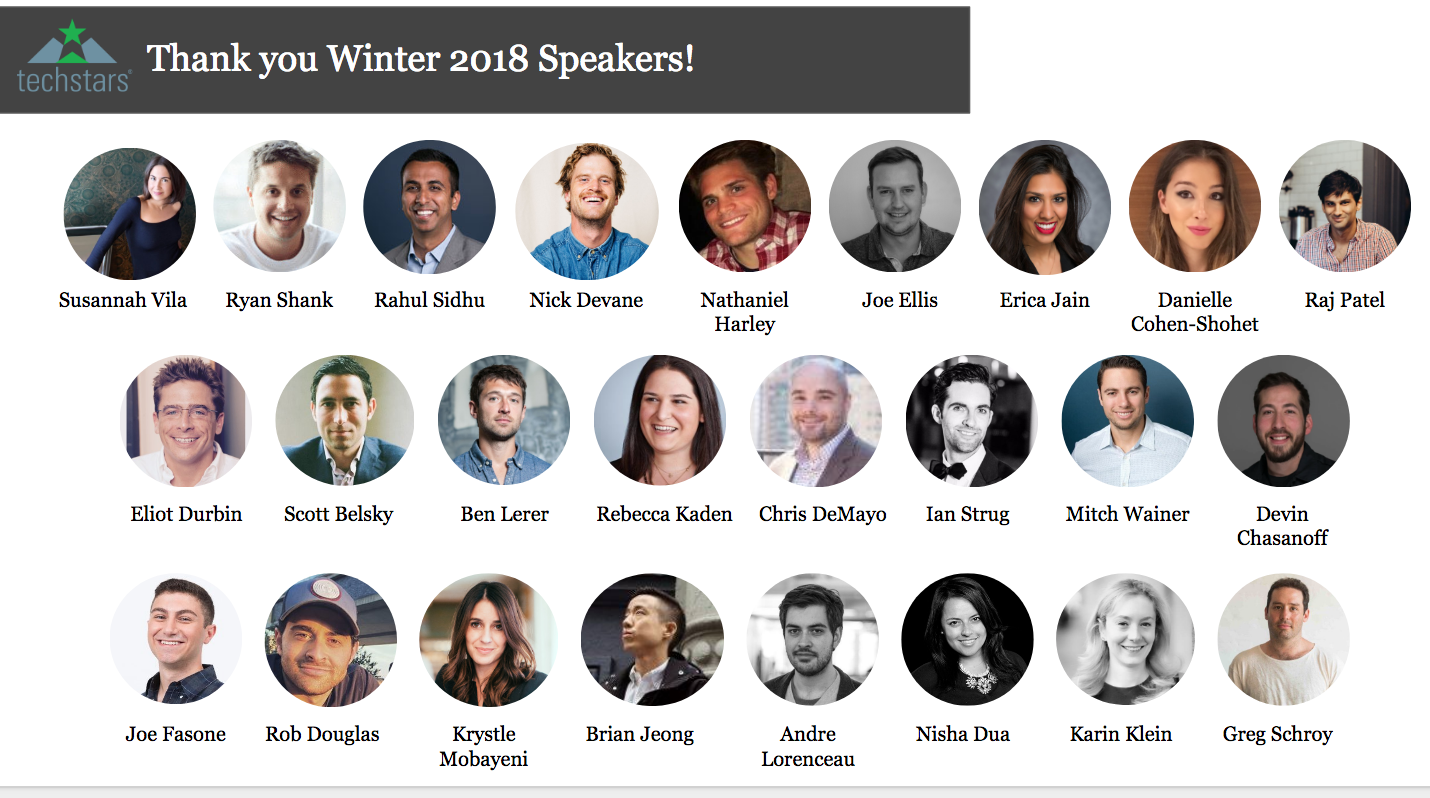 We are truly lucky to have incredibly engaged alumni, who are coming back to help the founders from business introductions to investor pitch. Alumni is a constant presence in Techstars NYC program and really shape the program. Special thank you to Brian Jeong, Sarah Adler, Erica Jain, Nathaniel Harley, Susannah Villa, Rob Douglas, Neha Singh, and Danielle Cohen-Shohet.
We felt really supported by 80 mentors who worked with the companies during the program — huge thank you, as always for your support.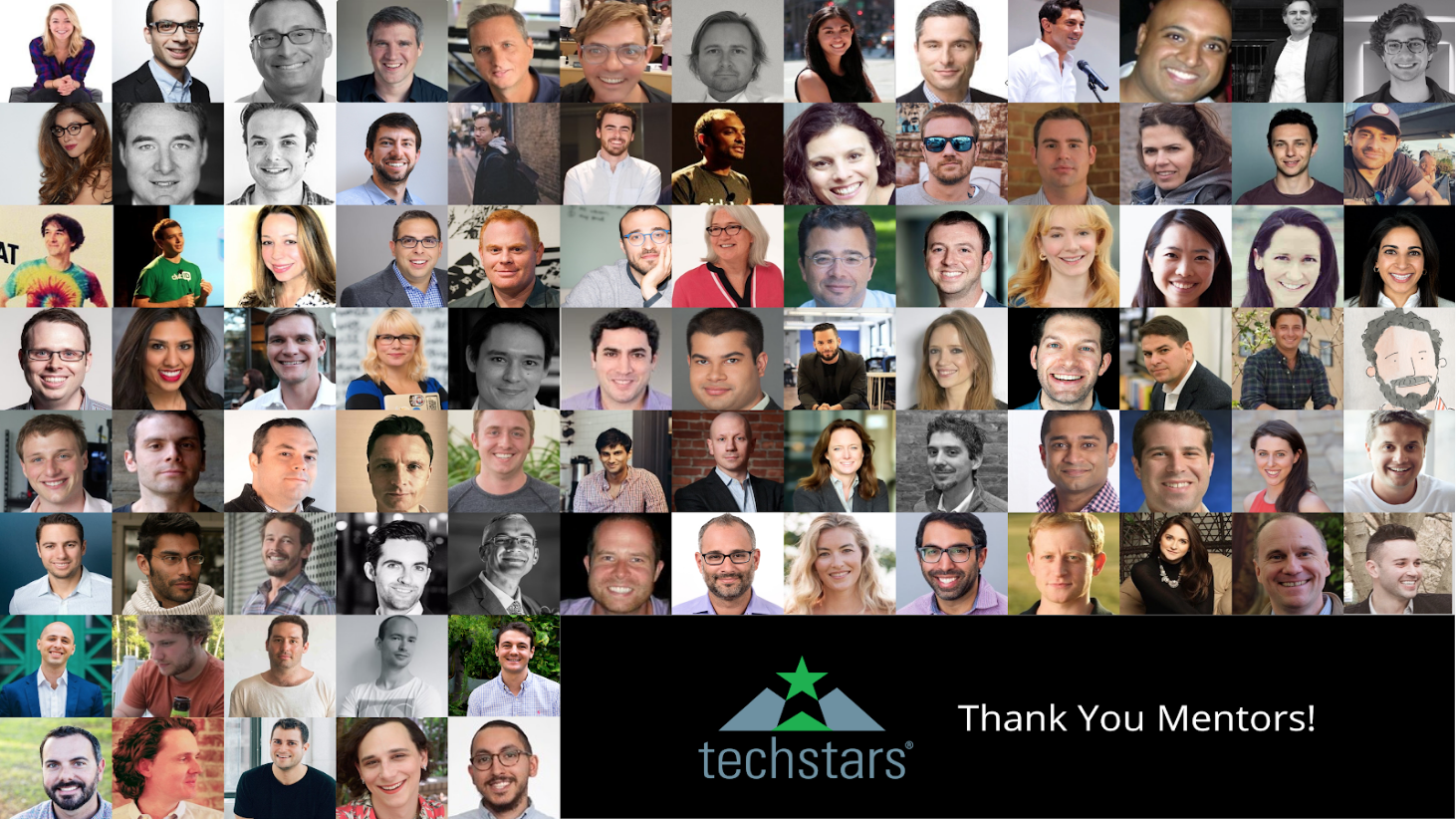 Here are specific shout outs from the companies:
Acculis – Chris Fraser (VP of Strategic Accounts, GreatHorn), Yaakov Zar (Co-Founder & CSO, Dispatch), Ian Strug (Co-founder, Virgo), Jason Saltzman (Co-Founder and CEO, AlleyNYC), Jonny Cohen (Senior Associate, Thyra)
Altru – John Cantarella (Head of Global Partnerships, Facebook), John Hill (VP of Network, Techstars), Fayez Mohamood (Co-Founder & CEO, Bleucore), Sabrina Kelly (VP of People Operations, Techstars), Matt Straz (Founder and CEO, Namely)
The Clear Cut – Max Wendkos (Product Design Lead, Aaptiv), Danielle Cohen-Shohet (CEO, GlossGenius), Brian Jeong (CEO, Hawthorne), Matthew Friesen (Head of E-Commerece, Global Brands Group), Carrie Reynolds (Executive-Level Consultant, CSR Consulting)
kpiReady – Mohamood Fayez (Co-Founder & CEO, Bleucore), Mitch Wainer (Co-Founder, DigitalOcean), Fabiola Carcamo (VP Product, Vroom), John Hill (VP of Network, Techstars), Weston Stearns (VP of Growth, DataCamp)
Kyso – Jonathan Cornelissen (CEO, Datacamp), Adam Johnson (CEO, IOPipe), Alexis Le-Quoc (CTO, Datadog), Adam Feldman (Product Manager, Sidewalk labs), Max Wendkos (Product Design Lead, Aaptiv)
OneStep – Susanne Mitschke (CEO, Mindmate), Rahul Sidhu (CEO, Spidr), Ryan Shank (CEO, PhoneWagon)
PathSpot – Tobias Peggs (CEO, Square Root Urban Growers), Josh Hix (Co-Founder & CEO, Plated), Nick Devane (CEO, Foodworks), Jonny Cohen (Senior Associate, Thyra), Diana Pincus (Vice President, Supply Chain & Quality, littleBits), Mike Montero (Co-founder & Chief Technology Officer, Resy Network), Rob Edell, Adam Casson (co-founder, Inscope Medical Solutions), Brett Jackson (Managing Director, V1 VC), Ben Schultz (Hardware Project Manager, Peloton Cycle), Alexandre Winter (Founder & CEO, Placemeter), Frank Rimalovski (Executive Director, NYU Entrepreneurial Institute), Sean Grundy (Co-founder and CEO, Bevi), Jenny Fielding (Angel)
Rootine – Susanne Mitschke (CEO, Mindmate), Fiona McCarthy (VP of Product, Prolific Interactive)
Streamline Genomics – Chris Fraser (VP of Strategic Accounts, GreatHorn), Ian Strug (Co-founder, Virgo), Matt Schwartz (CEO & Co-Founder, Virgo)
TypingDNA – Joel Wishkovsky (Founder & CEO, Simple Contacts), Kevin O'Brien (CEO, GreatHorn, Techstars '15) , Matt Kozlov (Managing Director, TS Healthcare Accelerator) , Jason Grad (Founder and CEO, Bstow), Thierry Schellenbach (CEO, Stream)
Vertoe – Dan Herman (CEO, Welcome), Todd Saunders (CEO, AdHawk), Trey Sisson (Founder), David Lapter (Chief Financial Officer, Dashlane)
THANK YOU ASSOCIATES
We feel very lucky to have had a stellar group of associates that absolutely crushed it during the program. Every single week we heard from the founders how helpful they found the associates. Abby, Alice, Jeff, Grace, Kyra, Khalil, Nastasia – thank you so much working really hard and making a difference.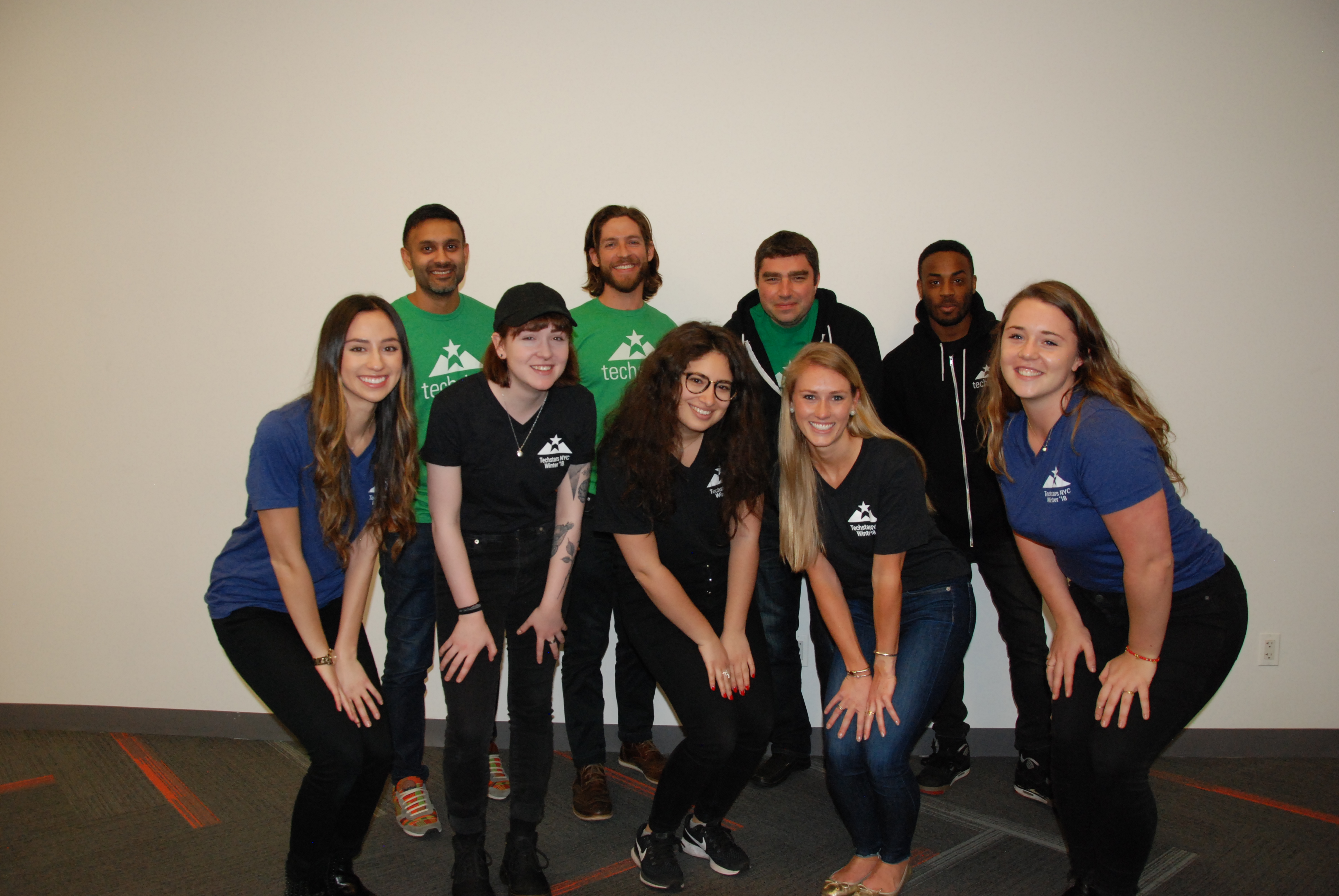 WHAT FOUNDERS LEARNED IN THE PROGRAM
Alykhan, CEO of Altru
If you aren't being rejected more than accepted, you're not asking for enough, reaching high enough, and valuing yourself enough. Try new things, ask people who scare you to help you, and begin to believe failing really is learning. If you're winning constantly, you're in a rut." – Tarah M. Wheeler
Vinnie, CTO of Altru
The importance of networking, and how every person you meet, in any context, has the potential to bring about another hire, an investment, a new customer, or access to an even broader network.
Olivia, CEO of Clear Cut
I learned in Techstars was that regardless of your industry metrics are critical and actually enable you to think bigger picture. Prior to the program I was so in the weeds that at times I didn't know where I was going. I also assumed KPIs were more relevant for hard-core tech companies. Today when I speak about our business I find myself using numbers in nearly every sentence.
Ali, CEO of kpiReady
Kyle, COO of Clear Cut
I learned to not let "perfect be the enemy of better". At times we were hesitant to move ahead because we knew our plans were not fully formed. The team at Techstars encouraged us to just focus on getting better each and every day. As a result we have had incredible traction in the program!
The power of giving first.  It amplifies and deepens everything.
Eva, CEO of One Step
Get good at sales. Everything at its core is sales – fundraising, acquiring customers and recruiting.
Christine, CEO of PathSpot
Techstars will not only make your business, your customers, and your team better, but it will also make you as a founder stronger if you fully immerse yourself in learning from the amazing staff, cohort, and mentors that it will expose you too.
Josette, CEO of Streamline Genomics
It's never too early to join Techstars.
Raul, CEO of TypingDNA
Being from eastern Europe we know how hard life can get at times, we're trained to survive in difficult situations and because of that we didn't expect to learn so much. We ended up improving our website, demos, marketing strategy, conversion funnel strategy, our products, the way we communicate, and ultimately Techstars helped us gain a larger vision about where our technology fits in the grand scheme of things.
We thought that "do more faster" has to do only with quantity, the amount of time you put into something shall translate to a larger deal of work being done. Putting everything at speed allowed us to super focus and develop a state of flow where we understand sharper and deeper what has to be done to succeed in our business.
Mentors, alumni, associates, program managers, they've all put their ass on the line for us. When you're a small startup doing something like we do, you feel a lot of skepticism around, and that is good to a certain degree but it is not productive. Having people around set up to help you succeed, that is incredibly productive.
Sid, CEO of Vertoe
Focus on deep funnel (product) – Just by focusing and nailing the deep funnel (higher conversion rates, fast and great performing website), you're able to maximize the efficiency of your existing marketing channels while putting your new channels in the best position to generate great ROI. For as little as a 5-10% improvement in conversion rates, you boost all your marketing channels!
Networking and mentorship – There are so many good mentors who are always willing to help. Don't hesitate to reach out as you'll be surprised by the #GiveFirst value that's ingrained in Techstars.
Neha, CMO of Vertoe
Although there were so many other learnings in the program, the biggest one for me has to be the importance of optimizing your deep funnels first.
Just by focussing on bottom up approach, we were laser focussed on refining our product to provide a seamless experience for our customers – it helped us increase our conversion rate, show week on week growth. This approach has also helped us improve the efficiency of our marketing spend.
Other learnings: Givefirst, Importance of tracking weekly KPIs.

GOOD LUCK TECHSTARS NYC WINTER 2018
We had so much fun this winter working together with this talented group of founders. Join us in wishing them best of luck!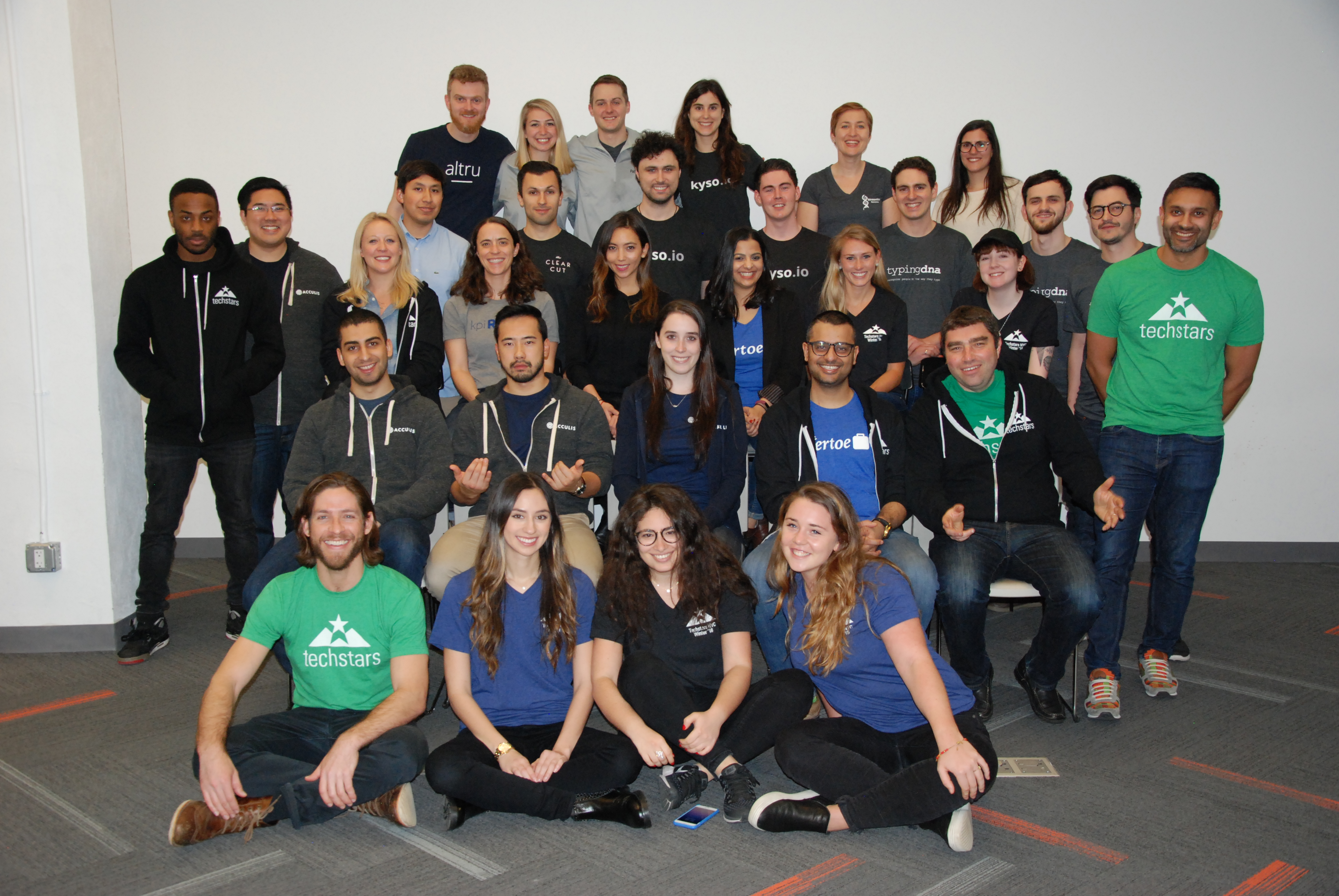 Engineer, Immigrant. Vegan. 3x Founder, Managing Partner @2048vc. Previously ran @techstars in NYC. I write #startuphacks: http://alexiskold.net .